---
You may think you're drowning in student loan debt if you owe more than the average of $37,172.
But in fact, there are relatively common cases of doctors, lawyers, and dentists whose $300,000 debt make your debt seem miniscule. For example:
The vet who owes more than $517,000.
The couple with double law-school debt.
The orthodontist who owes $1 million.
The couple working to pay down $500,000.
The law school graduate who lives on welfare.
Here are five particularly striking situations of people who probably have more student loan debt than you do.
1. The vet who owes more than $517,000
Last year, on an episode of the podcast Death, Sex & Money, veterinarian Alyssa Savage told host Anna Sale that when she thinks about her future, "I don't think about buying a house and I don't think about buying a car. I just think about paying off the student loan debt."
That's because Savage owes a total of $517,000 for student loans she took out to go to vet school and to cover her bills after a divorce. "It starts to feel like Monopoly money," she said. "$350,000 in debt and $400,000 in debt — it starts to just feel a little unreal. Of course now I think about the shame I feel."
Despite earning more than most people in the U.S., Savage can't seem to get out from under her debt. The episode was part of a series on student loans.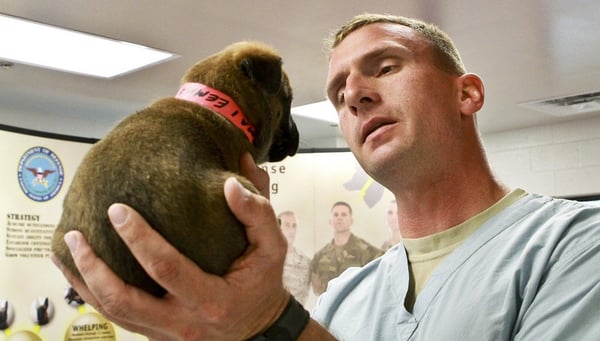 2. The couple with law school debt x2
To complete his degree at Fordham University Law School, 32-year-old Ravi Kantha borrowed between $160,000 and $170,000. In a recent story by Yahoo! Finance, Kantha said he planned to get his debt forgiven through the Public Service Loan Forgiveness program.
So Kantha went to work for a district attorney's office.
Four years later, still struggling with both his and his wife's additional $70,000 to $80,000 student loans from her law degree, he decided to give up on the idea of loan forgiveness and, instead, try to increase his salary. He went to work in a private law firm. But, years later, Kantha realized he needed a different career altogether.
He began a career in real estate selling commercial properties. Although it didn't require a law degree, his new career allowed him to pay off the entirety of the couple's $320,000 debt.
3. The orthodontist who owes $1 million
Dentists graduate with about $250,000 in debt, according to the American Dental Association. But 37-year-old Mike Meru has made headlines for his out-of-control student loan balance. That's because the orthodontist owes $1,060,945.42 as of May this year, The Wall Street Journal reported.
Despite earning more than $255,000 a year, owning a $400,000 house and driving a Tesla, Meru pays $1,589.97 a month, which isn't enough to cover interest. His debt actually grows by $130 a day and in 20 years will balloon to $2 million.
One out of 101 student loan borrowers who owe more than a million dollars. According to the Brookings Institute, these unique cases are a result unrestricted access to student loans and generous repayment plans.
4. The couple working to pay down $500,000
Borrowing more than $500,000 over the course of several years, with the bulk stemming from a degree in dentistry, the wife and husband behind the blog Debt Ascent have made it a point to get their financial lives back on track.
In a 2017 blog post, the dentist and engineer explained their efforts to pay off their debt:
Building spreadsheet with all of their loans and lenders

Setting up automatic payments

Extending loan terms beyond the standard repayment plan
Refinancing for a lower interest rate, and
Prioritizing loan repayment.
The couple wrote, "While [our careers] came at a significant cost, we don't curse or regret our debt...Our debt is a temporary inconvenience and nothing more."
5. The law school graduate who lives on welfare
Earlier this summer, a disillusioned student loan borrower wrote to Above the Law's series on mental-health and social issues affecting students and graduates of law programs. Having graduated from Southwestern Law School, the person owes $300,000 in federal loans.
Here's the kicker. The law school grad is now applying for welfare. After failing the bar in 2017, the grad has since applied for more than 600 jobs without any luck. "I know my degrees are worthless," the grad wrote. "I don't want anyone else to be in this position."
You don't have to be $500,000 or even $100,000 in debt to understand the crippling effects of student loan debt. If you want to reduce your monthly payments or pay off your loans quicker, refinancing is one option that can save you thousands over the life of your loan.
Don't think you have time to refinance? Comet gives you a roundup of the best deals based on your needs, and it only takes minutes to apply. Find out how much you can save with our leading lenders.