College Ave Student Loan Refinance Review

Updated on May 7, 2019
By Jen Williamson
<-- View all of my refinancing options


Now that you've started your search for a refinancing lender, you've probably noticed that there are many options to meet a wide range of borrowers' needs.
Let's take an in-depth look what you can can expect if you refinance your student loans through College Ave.
Known as a non-traditional lender that's flexible in loan term options with an easy-to-navigate platform, College Ave is a popular lender for refinancing. But the question is, are they the right lender for you?
What are the benefits of refinancing through College Ave?
If you're looking for extra flexibility in your payment options, College Ave may be an excellent option for you.
College Ave offers multiple options for borrowers looking to refinance their student loan debt, including the choice between making full payments or paying only interest for the first two years. This makes the lender a great option for borrowers who want to prioritize lower monthly payments.
If you're not sure how you want to pay, or whether you want a fixed or variable rate, you can rely on College Ave's portal to compare and decide which loan terms are best for you. The site allows you to see how different terms affect your monthly payments and loan totals.
In addition to the flexible payment options, College Ave offers low, competitive interest rates, plus the chance at an interest rate reduction when you sign up for automatic monthly payments.
Why refinance through College Ave?
There are many lenders with great refinancing options, so why College Ave?
In addition to flexibility and ease of use, College Ave has made it is mission to help borrowers understand the refinancing process. Cofounders Joe DePaulo and Tim Staley, former executives at Sallie Mae, felt that student loans and student loan refinancing needed a do-over.
Since launching in 2014, College Ave has become a top choice for personalized, easy refinancing. While a relative newcomer to the student loan market, the lender has garnered millions of dollars of investment backing from Comcast Ventures and has been able to compete alongside traditional lenders.
It's also a lender you can trust, since all of its refinance loans are offered through FDIC-backed Nationwide Bank.
What refinancing options does College Ave offer?
The folks at College Ave believe there's no single best refinancing plan for everyone.
When refinancing your student loans College Ave, you can decide how long you want to take to repay your loans. Its flexible loan terms range from five years to 15 years, allowing you to decide how long you want to take to repay.
College Ave offers refinancing options for loan amounts as low as $5,000. Borrowers who complete undergraduate and graduate programs can refinance as much as $150,000, and graduates of medical, dental, veterinary or pharmacy programs as much as $250,000.
Graduates can choose between low fixed rates (between 3.25% and 8.00% APR) or variable rates (between 2.88% and 7.63% APR).
The lender also offers two ways to pay:
You can make full payments each month, which pays down your principal and interest. This offers a higher monthly payment but provides larger savings over the life of your loan.
You can also opt to pay interest-only for the first two years—a unique option among student loan lenders. This payment plan will result in a modest initial monthly payment that will increase after two years. This is an excellent option if you need to focus on lowering your monthly bills for a temporary period of time.
The choice between the two repayment plans allows you to budget at your own discretion, letting prioritize monthly bills or long-term savings.
The lender also offers a 0.25% interest rate reduction when you enroll in autopay and an additional 0.25% reduction when you link your autopay to a Nationwide Bank account.
If you want to see what refinancing through College Ave would look like before you apply, the lender's refinancing calculator lets you estimate your savings.
Who qualifies for refinancing through College Ave?
College Ave will refinance and consolidate all qualified education loans. Borrowers must:
be 18 years or older
be a U.S. citizen or permanent resident
have graduated from a Title IV eligible undergraduate or graduate program, and
meet College Ave Refi's underwriting requirements.
How to apply for student loan refinancing through College Ave?
Applying online through College Ave is easy.
First, enter your personal information, including name, social security number and the school you attended.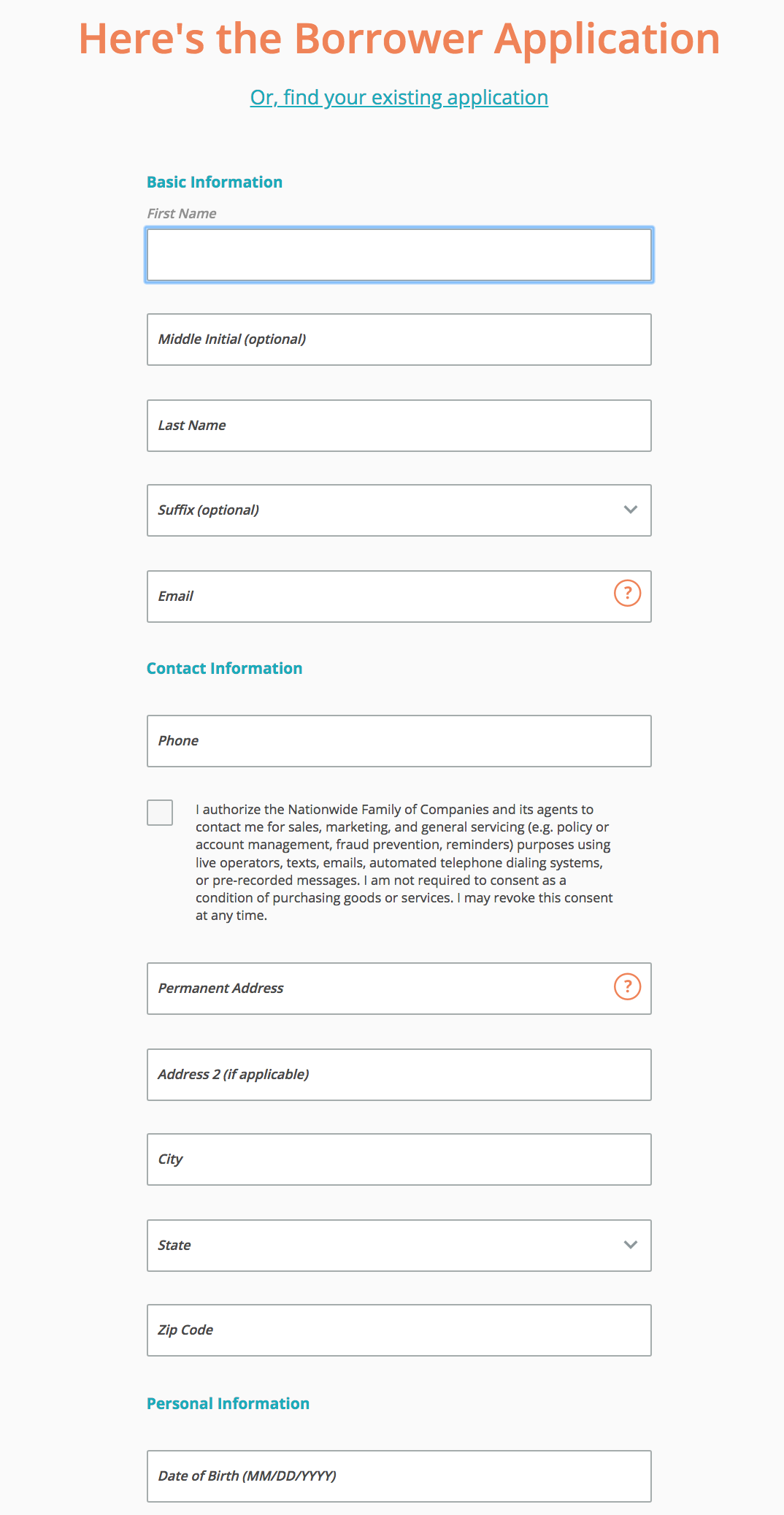 Using your personal information, College Ave will give you a summary of possible rates and fees. This is not your specific loan offer, but it can be a good indicator of what to expect if and when the lender accepts your application for refinancing.
Take a look at the general terms the lender has compiled for you to determine whether College Ave is the right lender for you.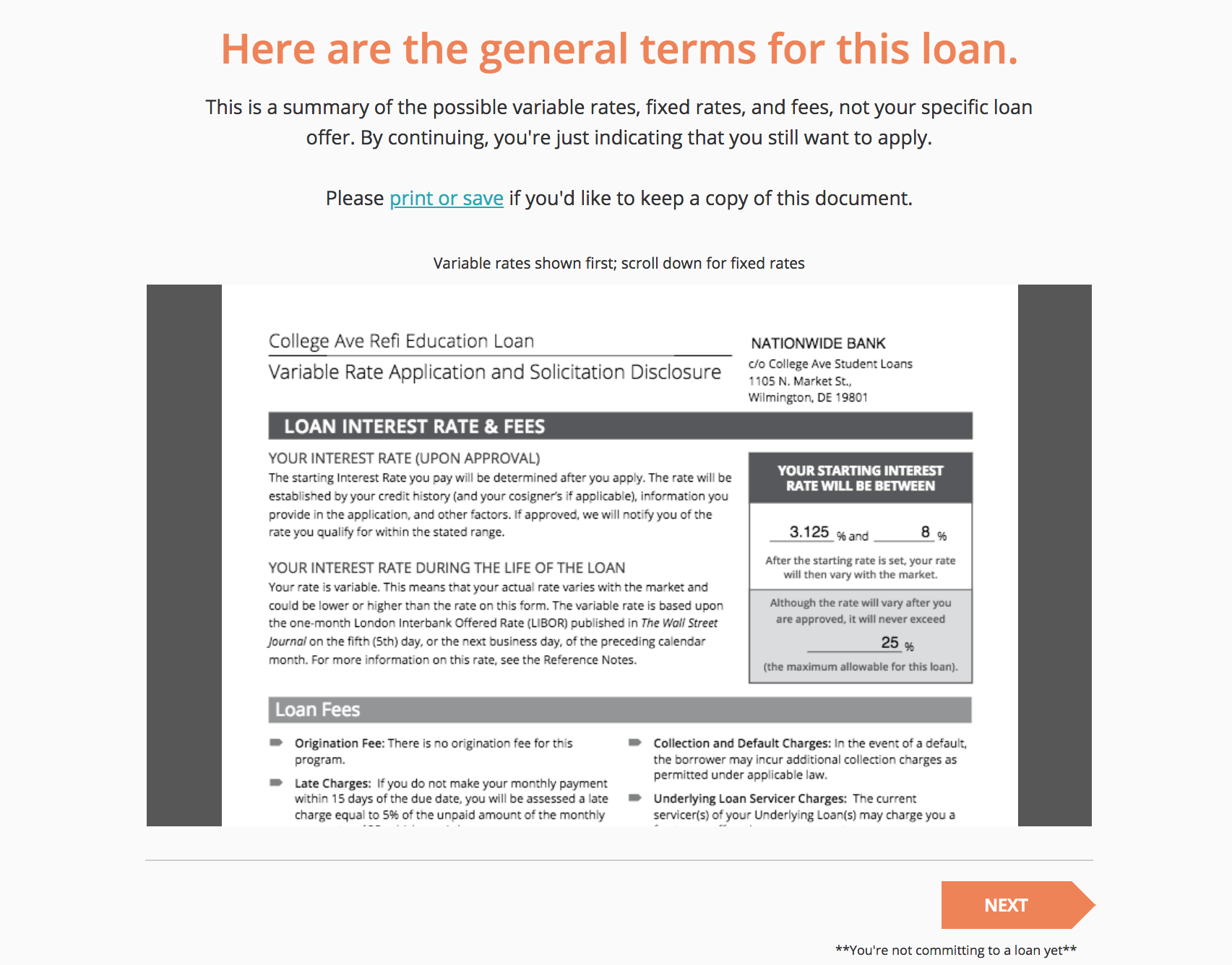 Once you've examined the terms, click the orange tab that says "Next" to move forward.
On the next page, the lender will ask how you would like to apply — either on your own or with a cosigner. While a cosigner is not required, it can give you a better chance of the lender accepting your application if your credit score is on the lower end. Having a cosigner can also help get you a better interest rate, even if you already have good credit.
This is where the lender asks for your permission to obtain your credit.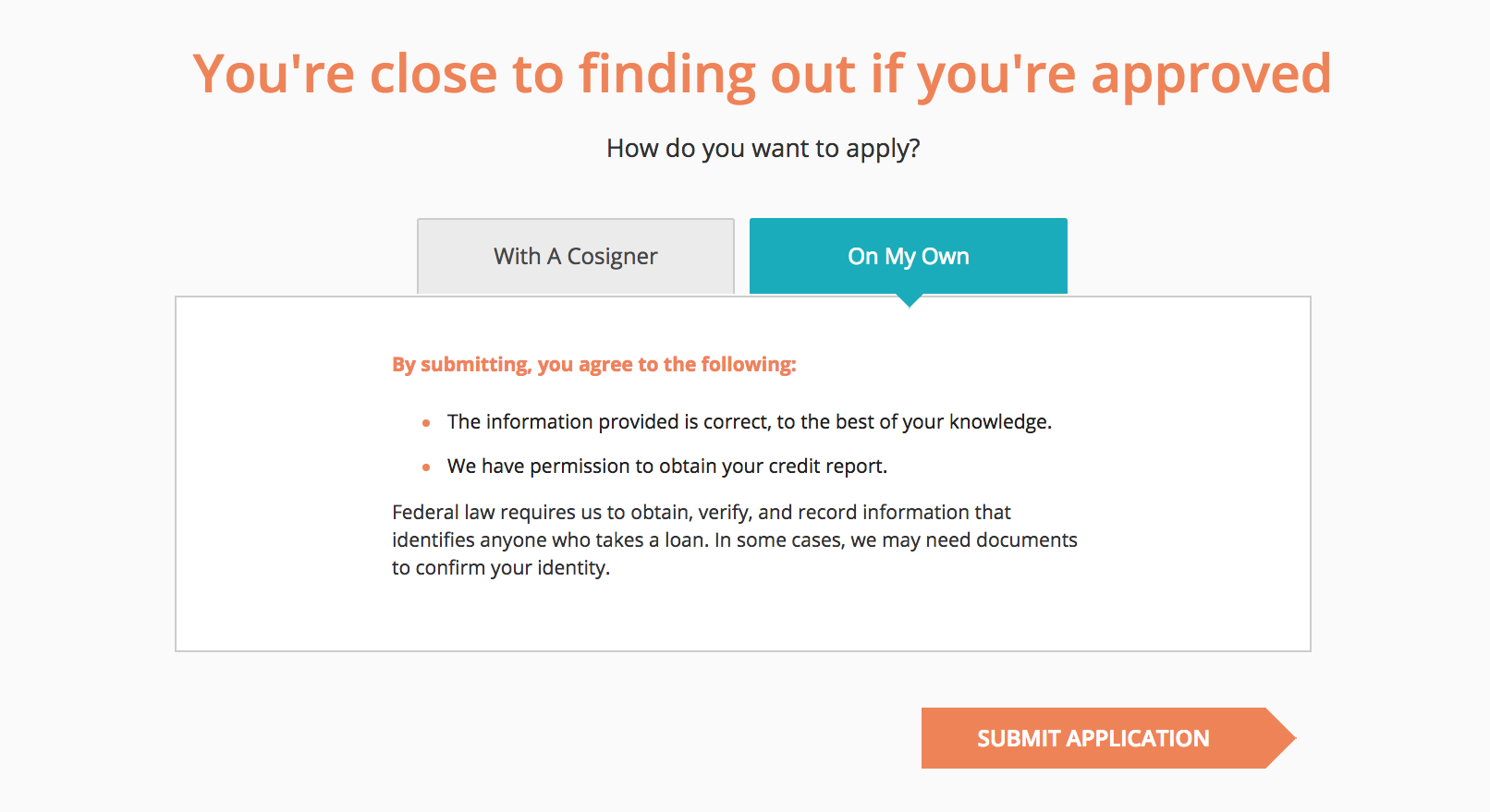 To complete the application, click the "Submit Application" button. The last page you'll see will be a page that indicates whether or not your application was accepted.
Once you're accepted, the lender will explain the next steps.
The process is that simple. When you apply, you'll also need:
the name of your current servicer
your servicer account number for each of the loans you wish to refinance, and
the total amount you wish to refinance.
So, does College Ave meet your refinancing needs? With a technology-forward, easy-to-navigate portal that makes it easy to see which of the multiple flexible repayment and loan term options suit you best, College Ave is definitely a lender to consider.

To learn more about what the lender offers or apply for refinancing, visit College Ave Student Loans.