Education Loan Finance Student Loan Refinancing Review

Updated on October 4, 2022
By Julissa Treviño


<-- View all of my refinancing options

There are many good reasons to refinance your student loans. However, choosing a lender isn't always so easy—but it's a really important decision.
In addition to offering a lower payment or a better interest rate, a good lender can also provide flexibility, helpful customer service, and other benefits. Plus, you want a lender that is going to make refinancing as easy as possible, so you can get through the application and start saving money ASAP.
One increasingly popular student loan refinancing choice is Education Loan Finance, or ELFI. So let's take a look at what you can expect when you refinance through this lender.
Why refinance through ELFI?
In our view, ELFI combines the benefits of traditional loan lenders with the support and service found in many of the newer, private-sector startups.
This nimble business model is backed by a management team that has a combined 30 years of experience in the student lending business—allowing the company to make significant strides in reducing some of the pain points borrowers may typically experience during the refinancing process.




For example, ELFI has a streamlined online application process, as well as some of the best-reviewed customer service in the industry.
All of ELFI's loans are backed by Tennessee-based SouthEast Bank.
On top of that, this lender also offers significant incentives and interest rate protection that can add up to real savings. We'll talk more about those in a minute.
What are the benefits of refinancing through ELFI?
Many ELFI customers save hundreds of dollars a month and thousands over the length of the loan term. The company offers extremely competitive interest rates to qualified lenders.
Every time you get a friend to refinance with ELFI, you'll get $400 and your friend will get $100. View more details here.
You can also be sure the company is doing good in the community. To date, ELFI has offered more than $18 million in scholarships for students, and they also provide free scholarship searches and financial literacy programs for borrowers.
Also, ELFI never charges application fees, origination fees, or prepayment penalties.
What refinancing options does ELFI offer?
ELFI's low interest rates and flexible loan terms makes it a popular choice.
The company offers a unique guarantee for borrowers who want to take advantage of lower variable interest rate loans. ELFI offers the assurance that your rate will not increase more than once per quarter and will never exceed 9.95%.
Variable rates start at just 2.48% APR and fixed rates start at 4.29% APR. Of course, your interest rate will depend on your credit score and other factors.
Flexible repayment terms range from five to 20 years. Typically, a longer term means that your monthly payment is lower.
Either way, ELFI's flexible plans means there's a right plan for everyone. On ELFI's homepage, you can see some loan plans that will give you an idea of how you can the company offers you a tailored approach for different budgets.
Who qualifies for refinancing through ELFI?
To refinance through ELFI, you must:
Be a U.S. citizen or permanent resident
Be at least 18 years old at the time of the application
Have earned a bachelor's degree or higher from an approved program
Refinance at least $10,000 in student loan debt, and
Reside in a state in which ELFI is authorized to lend.
How to apply for a student loan refinance through ELFI
The application process is easy. You'll need your current billing statement for each of your loans, your most recent pay stub(s), your W-2, a copy of your valid ID, and your billing account information.
To get started, head over to ELFI.com.
First, click "Apply Now" on the main page and create a profile. On the next page (see below), click on "Student Loan Refinancing."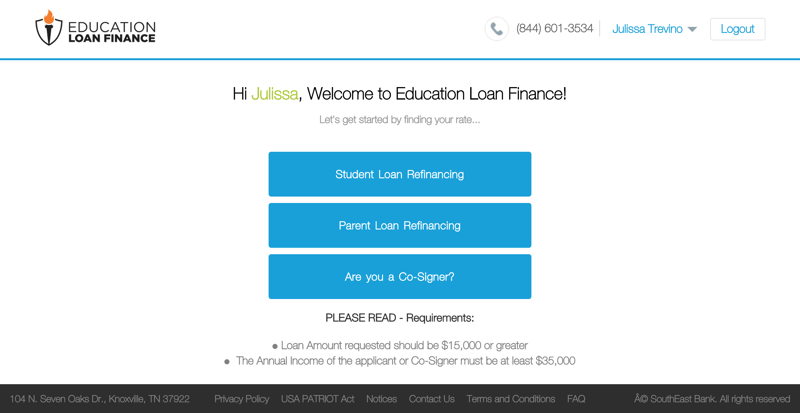 After entering the verification code, you'll be asked to submit some personal information, as shown below, which ELFI will use to create a conditional loan offer. Once you've filled this out, click "Get My Rate."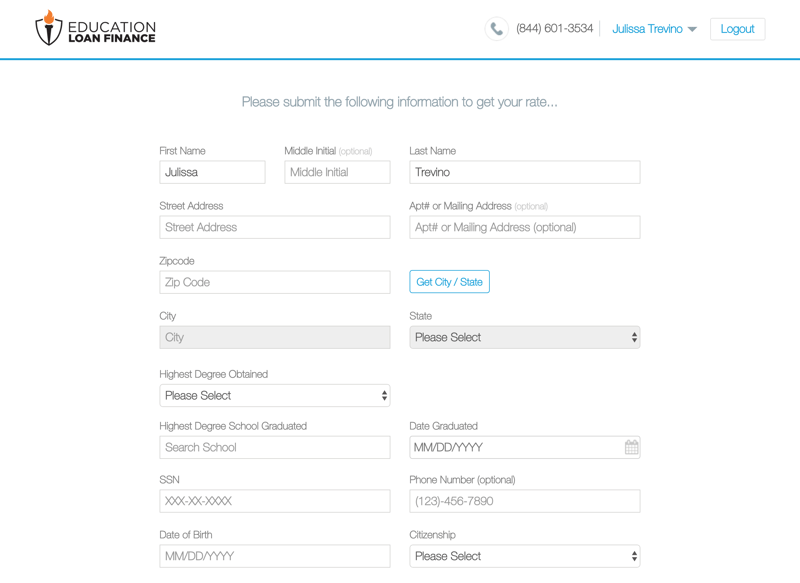 Take a look at the rate the lender has offered. This is not your specific loan offer, but it can be a good indicator of what to expect if and when the lender accepts your application for refinancing.
Next, you'll be asked to provide more specific information about yourself and the loan debt you're trying to refinance.
While a cosigner is not required, having one can give you a better chance of the lender accepting your application if your credit score is on the lower end. A cosigner can also help get you a better interest rate, even if you already have good credit.
You'll also be asked to upload supporting documents. Once your information is verified, the company will send you a personalized loan offer.
The lender will then explain the last remaining steps to getting your loan refinanced. Remember to keep paying your loans as usual until your loan is completely transferred to your new lender; don't skip any payments
Should you refinance your student loans through ELFI?
Are you still debating whether Education Loan Finance is the right choice for you? Visit ELFI.com to learn more about what the lender offers or apply for refinancing.