LendKey Student Loan Refinance Review

Updated on March 9, 2022
By Sara Lindberg
<-- View all of my refinancing options



If you're thinking about refinancing your student loan, you might be wondering which lender offers the best options for you.
With so many choices, this decision can feel overwhelming. That's where LendKey comes in.
LendKey is not like the other lenders. Instead of directly disbursing funds, they operate as a portal to connect you with a wide variety of smaller, local lenders and credit unions that offer extremely competitive rates. Then, once you select your refinancing offer, LendKey will service the loan for you.
What are the advantages of refinancing your student loans with LendKey?
LendKey uses a single platform that allows you to find, customize, and refinance your student loans through their network of smaller lenders.
LendKey's mission is to connect people with lenders and loan products they might not normally have access to, such as community banks and credit unions, that may offer low interest rates and more personalized customer service.
With one application, you can receive student loan refinancing quotes from over 300 community banks and credit unions that partner with LendKey. What's nice about this process is you can instantly view interest rates and terms from a variety of lenders without having to fill out any additional paperwork.
The same customer service reps that are there to help you during the application process will be there up until your final payment.
See also: Everything You Need to Know About Student Loan Refinancing.
Why should you refinance with LendKey
LendKey is known for its unique approach to refinancing student loans. Even though LendKey offers an innovative portal to connect customers and lenders, they don't just gather your information and then kick you out to another loan website.
LendKey is with you every step of the way, from application through payment. LendKey will handle the loan origination and servicing.
If you need help, LendKey has loan specialists to help you select and apply for the loans that best fit your needs.
Plus, LendKey offers flexible repayment plans, including 5, 7,10, 15 and 20-year loan terms.
What are the eligibility requirements to refinance your student loans?
In order to refinance your private or federal loans with LendKey, you must have between $5,000 and $300,000 of existing student loan debt. The minimum and maximum amount may vary based on your degree.
You'll need to be able to show an income at least $24,00 per year, have a credit score in the mid 600's, and have a degree from an eligible school.
What rates and fees does LendKey charge for student loan refinancing?
LendKey does not charge an origination fee to refinance your student loans. They offer extremely competitive rates, starting at 1.90% for a variable interest loan or 2.49% for a fixed interest loan.
But before you say yes to the lower rate, make sure you understand the difference between a variable and fixed rate. A variable rate fluctuates with market changes, whereas a fixed rate stays the same over the life of your loan.
This fluctuation can yield a different loan payment each time the interest rate changes.
Does LendKey offer discounts?
Yes, if you sign up for automatic ACH (Automated Clearing House) payments, LendKey will give you a .25% interest rate reduction.
How to apply for student loan refinancing through LendKey
Determining eligibility only takes about 2 minutes, completing the entire loan process takes about a total of 15 minutes.
Here's how to get started:
Click on Check Your Rate. From here, you'll be able to get rate quotes without submitting to a hard credit inquiry.

Step 2: Enter your personal information
You will be asked to provide your:
Name
Address
Email address
Citizenship status
Total annual income
School information, and
Loan information.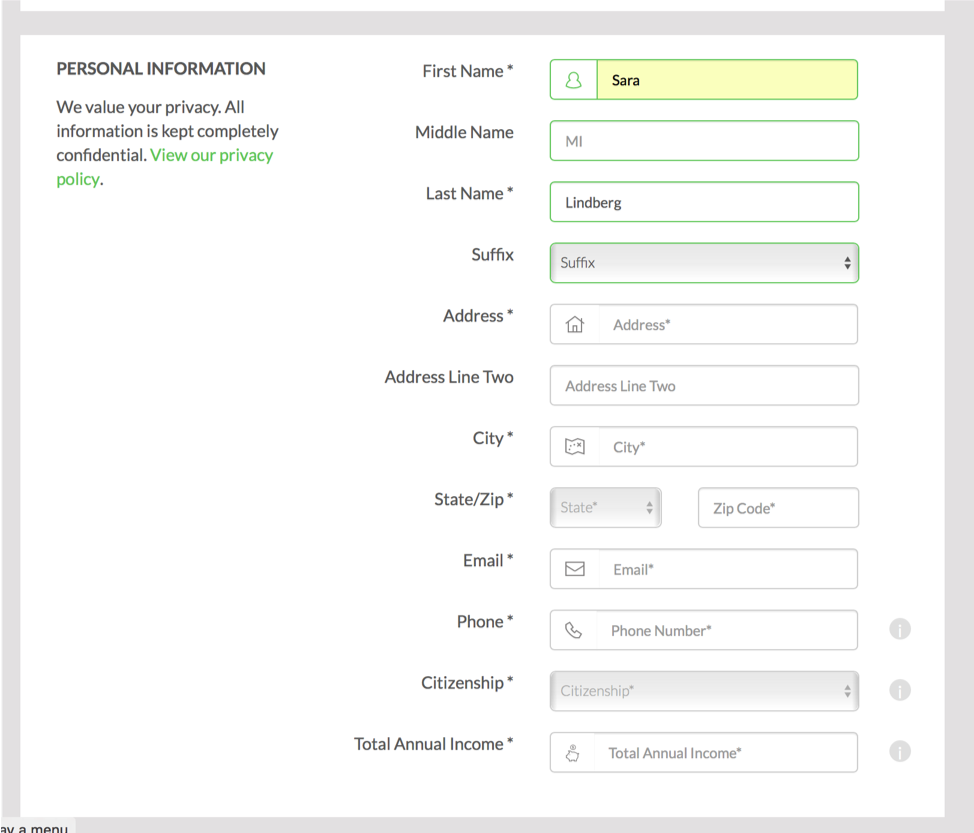 When you enter your current student loan information, make sure it's accurate. This will impact the offers you receive. Under loan type, you will be given the option of choosing federal loans, private loans, or both.


The final step on this page requires you to consent to a soft inquiry that will not affect your credit score.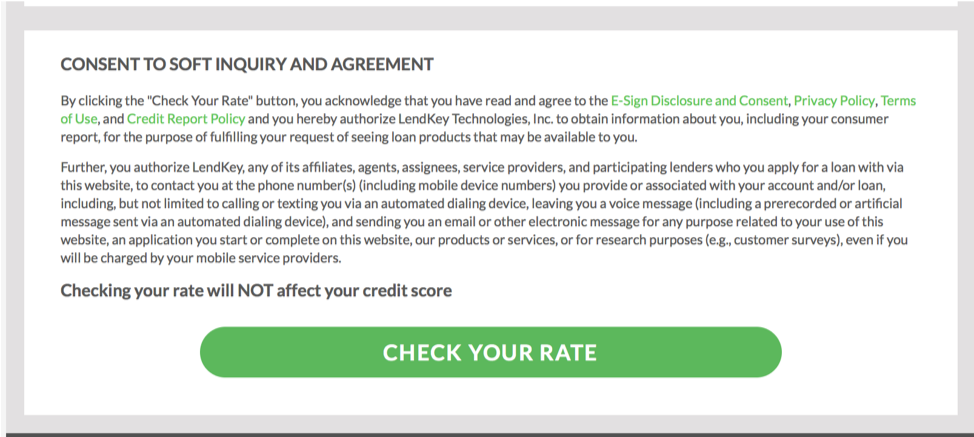 Step 3: Review your refinance offers
If you qualify, you will be sent to a page that shows several refinancing offers. LendKey works hard to match you with lenders that are close to where you live, but you may receive offers from further away as well.
LendKey curates for you so you see the best in class rates for each term and rate type available for you, so you don't have to sort through 300 loan offers.
Step 4: Choose the lender offer that works best for you
Review the refinance offers and choose the one that works best for you.
Step 5: Create an account and upload verification documents
Remember, up until this point, you were just gathering information to make an informed decision. Now, you'll be getting into the real application and moving closer to refinancing.
When you reach this step, you should be ready to provide your social security number.
You will be asked to create an account and agree to a credit inquiry. Unlike the soft inquiry you did to determine your refinance offers, the credit inquiry in this step will affect your credit score. (Note: A single credit inquiry on its own has very little impact on your credit score. If you're shopping around for other offers, try to keep all your credit inquiries within 15 days to minimize the impact on your credit score.)
You will then be asked to upload verification documents such as loan statements and pay stubs.
Step 6: Approval of your application
Once your application is approved and you've agreed to the terms, you'll be sent a conditional approval.
However, know that your old loan or loans will not be paid off by your new lender until you receive an official loan approval. Be sure to continue paying on your existing loan or loans until you have confirmation that your refinanced loan is ready for payment and your old loan or loans show a zero balance.
Should you apply for a student loan refinance from LendKey?
With the opportunity to unearth student loan refinancing deals that you might have otherwise missed, LendKey's innovative portal offers you the assurance that you left no stone unturned in searching for the best deals out there.
Plus, you can feel good about supporting local businesses while enjoying LendKey's personalized customer service.
Learn more about refinancing your student loans with LendKey.