Splash Financial Student Loan Refinance Review

Updated on October 5, 2022
<-- View all of my refinancing options



Whether you want a lower monthly payment, a faster repayment, or more time to pay, refinancing is often a good way to save money and simplify student loan repayment.
Essentially, refinancing allows you to take out a new loan with new terms to pay off your existing student loan debt.
Like many student loan refinancing lenders, Splash Financial can make it easier for you to pay off your debt by offering you a lower interest rate. However, Splash has some other unique offerings that make it a standout in this space. That's especially true if you're currently doing a medical residency or fellowship.
Interested in learning more? Here's what you need to know about Splash Financial.
What are the benefits of refinancing through Splash Financial?
Splash connects you with community banks to give you access to market-leading student loan refinance deals. If that sounds overwhelming, know that Splash does the heavy lifting for you by negotiating with its partner banks and credit unions on your behalf.
There's only one application to fill out. You can get a conditional loan approval within minutes.
If you're in a medical residency or fellowship, Splash offers a specific refinancing plan to meet your needs so that student loans won't distract you from your professional training.
Splash also has a referral program that really pays off. When you refer a friend, you can each earn $250 when that friend refinances with Splash.


Why refinance through Splash Financial?
Splash Financial's founders created the company because they had friends who were drowning in student loan debt but didn't know where to turn for help. This gave them the idea to start a company for people who were struggling with the burden of high student loan balances, high interest rates, and too-large monthly payments.
Since those early years, Splash Financial has established itself as student loan refinance company that's committed to lowering borrowers' monthly payments and helping them pay off their debt sooner.
What refinancing options does Splash Financial offer?
With Splash Financial, you can expect low rates that will help you lower your monthly payments or pay off your loans faster. Splash customers say they typically save about $350 per month or $29,340 over the life of the loan.
Fixed interest rates start at just 3.29% and variable interest rates at just 2.49%. You can refinance any amount starting at $5,000 with no maximum. Loans are available for five, seven, eight, 10, 12, 15, 20, and 25 year terms.
These options offer excellent flexibility, whether you're on a tight budget month-to-month or you need to pay loans off in record time in order to save for long-term goals.
Plus, keep in mind that lowering your interest rate by even 1% can save you thousands of dollars over the life of your loan, and shave months or years off your debt repayment.
The company never charges origination or application fees, or penalties for paying your loan off early. So all of your hard-earned cash will go directly toward your debt.
What refinancing options does Splash Financial offer for medical residents?
Splash Financial understands that it can be hard to deal with student loan debt while doing a medical residency or fellowship. That's why they offer low fixed rates, and no application or origination fees.
Refinancing with Splash can reduce loan payments by $3,000 to $6,000 each year while you're in training.
Here's what you need to know:
Fixed interest rates start at just 5.44% and variable rates begin at 5.34%.
Loan terms go up to 20 years, offering you maximum flexibility.
Borrowers can opt to pay just $100 per month during your training and six months after -- up to 84 months total. Essentially, you can defer payment until after you complete training.
However, be aware that opting for the $100/month payment means that all interest will accrue and capitalize at the end of your training period, so you'll end up paying more in the long-term. But if making a significant student loan payment each month is simply out of the question while you're in training, this could be a helpful option.
Who qualifies for refinancing through Splash Financial?
If you're interested in refinancing through Splash Financial, you must:
Be a U.S. citizen or Permanent Resident.
Be the age of majority in your state of residence.
Have at least one outstanding, fully-disbursed private education loan, federal-backed education loan, or Parent Loan.
Be the borrower on the loan application and on the promissory note.
Have an associates degree or higher.
No minimum income
Provide proof of income.
Meet the borrower credit requirements.
Refinance a loan amount of between $5,000 to No Max.
How to apply for student loan refinancing through Splash Financial
Splash Financial's application process is quick and easy.
First, go to SplashFinancial.com. From the homepage, click on the orange button that says "Get My Rate."
On the next page, you'll create an account and share basic information such as the type of loans you want to refinance, where you went to school, and your degree.
Next, it asks for your employment status, income, and housing situation. Click continue to enter the amount of your loans and some other financial basics. (This information will all be verified later so you only need estimates right now -- not exact amounts.) On the next screen, enter your address and phone number. On the final screen, you'll need to note your citizenship status, Social Security number and birth date. Then click Get My Rate. That's it!
If you qualify, you'll see some loan options and you can choose which works best for you. This allows you to clearly see your interest rate, life of loan savings, and loan term before you apply.
Now you'll see the start of the application for the loan offering you've chosen. This asks for basic personal and loan information.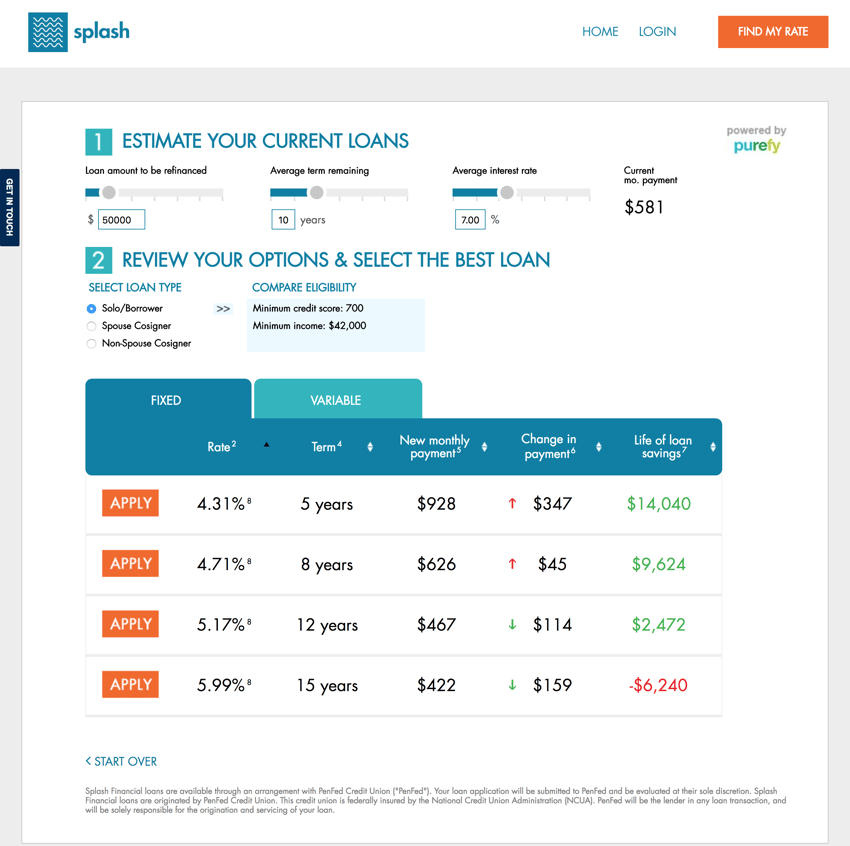 Note: Splash is backed by several banks and credit unions. If your best rate comes from a credit union, you'll need to become a member to take advantage of it. But don't worry -- it's free and Splash makes that easy. After you submit an application, Splash lets you create your account right from your Splash Financial dashboard.
For the company's verification process, you will need to submit the following documents (don't worry about having an actual copy; a picture from your phone or screenshot is fine):
Income verification, such as a pay stub or tax return
Photo ID, such as a driver's license, passport, or state-issued ID card
Payoff verification statements from each existing servicer, which are statements that project the payoff amount 10, 15 or 30 days into the future
A copy or photo of your diploma or transcripts
Splash will give you all the details about how to submit verification documents. It's that easy.
Are you ready to refinance with Splash Financial? Whether you're doing a medical residency and need to defer student loan payments, or a graduate who's ready to lower your interest, it's easy to see why Splash is good choice.
To learn more about what the lender offers or apply for refinancing, visit SplashFinancial.com.