10 Best Debt Payoff Apps
How many times have you heard someone say: "There's an app for that?"
If you're knee-deep in student loans and looking for ways to help pay off your debt faster, you might want to try an app or online tool that does just that. Here are few to help you get your finances in shape and, in some cases, make money with your smartphone.
1. Givling
Play a trivia game and get your student loan debt paid off. No, really.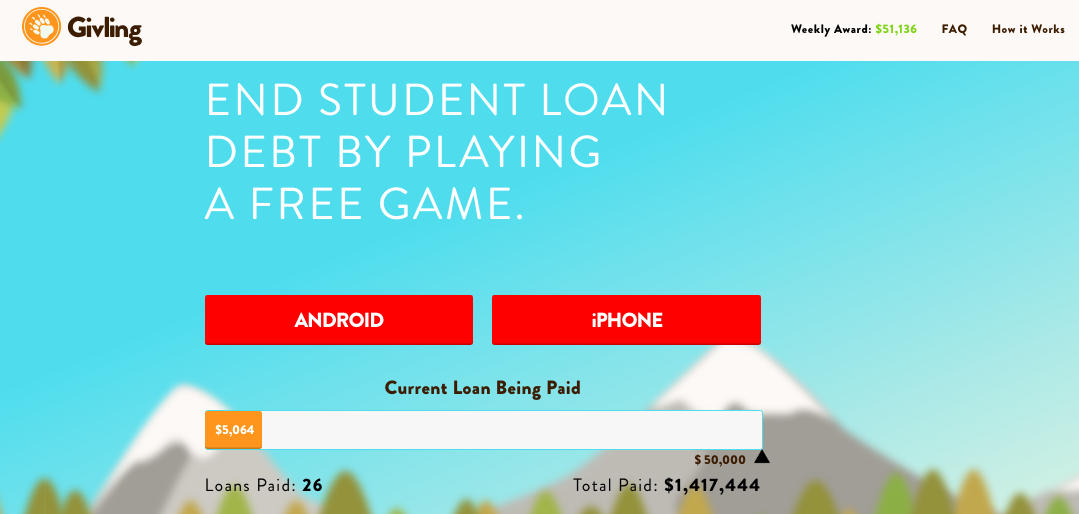 When you sign up for Givling, you're randomly matched with two other people to form a trivia team, and your team answers questions until you get one wrong.
The more correct answers you get, the more points you accumulate—and the better chance you have of being selected to get a cash award.
You can play two free games a day, and pay for Givling "coins" to play more frequently. Givling gets its money through advertising, sponsorships, crowdfunding, and players who pay for coins.
Benefits:
You probably play games on your phone anyway, right? So do what you're already doing, and get a chance to knock off your debt.
Did we mention it's free? (Or you can pay a little more to up your chances).
The feel-good factor. If you do buy coins, your payments fund other people's student loan payoffs.

It really works. Winners get up to $50,000 in student loan debt repaid, and the company claims to have paid off over $1 million in student loans and other debt.
Cost: Free, or you can buy "coins" for varying prices depending on how many you buy. Ten coins is $.53 per coin.


2. ChangEd
ChangEd is one of many ubiquitous "round-up" apps that automatically round up the purchases you make, and kick that extra change toward your student loans. (We'll talk about several more in this article.)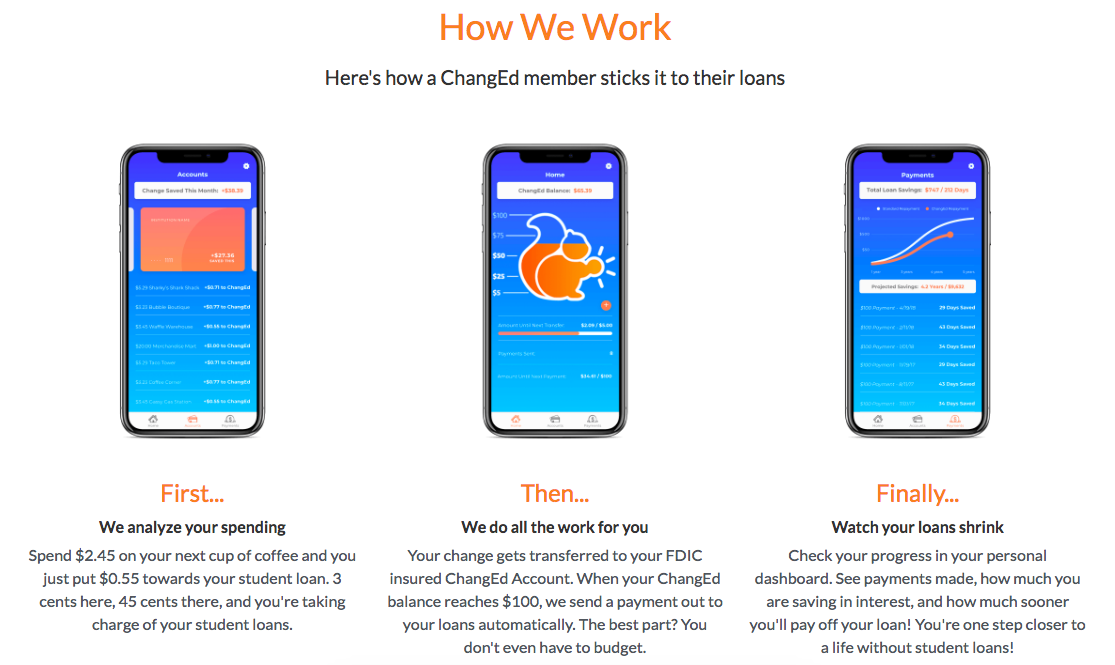 Here's how ChangEd works. You open an in-app account and link it to your bank account and your student loans—the app walks you through this.
Once you're all set up, the app monitors your spending and rounds up every purchase you make to the next dollar amount. Once the rounded-up amount reaches $5, ChangEd transfers that amount to your ChangEd account.
Then, once the amount in your ChangEd account reaches $100, the app will send it to your student loans.
For most people, this is how it looks in practice: a couple times a week, the app transfers an amount from $5-$10 from your normal spending account to your in-app account.
Then, every few months, you get an extra $100 sent to your student loan. It's incremental, automatic progress—which can work great.
Benefits:
The minimum withdrawal amount is $5, but the maximum amount is $10—so if you spend a lot of money at once, you won't get a giant debit.

Automatic round-ups don't feel like a spending burden.

A detailed dashboard that lets you see your loan payoff progress, as well as how much is in your ChangEd account.
Cost: $1 per month, debited from your ChangeEd balance.


3. EvoShare
EvoShare is a browser extension that earns you up to 30% cash back on online purchases with participating retailers. You can put your savings toward your student loan, or toward a retirement or college savings account.

Here's how it works. When you head over to an online store that's an EvoShare participant, your EvoShare extension will turn red. If you click on it, you'll activate the cash back reward.
Then, EvoShare sends your cash back directly to your student loan—which you connected to the app when you opened your account.
In some locations—mostly in California so far—you can also earn cash back through EvoShare when you visit brick-and-mortar retail locations. You have to link your EvoShare account to your debit or credit card to make this happen.
Benefits:
1,300 online businesses and a little over 8,700 stores and restaurants participate.

Earn money from shopping, and put it toward your student loan. Whee!

EvoShare sends the money directly to your student loan—so you don't get the chance to spend it first.
Cost: The tool is free to use. EvoShare takes a percentage of the total cash-back amount from participating retailers.


4. Qoins
Qoins is another round-up app. Like ChangEd, you connect your bank account and your student loan accounts to the Qoins app. Then the app monitors your spending, rounds up your purchases to the nearest dollar, and sends that money toward your loans.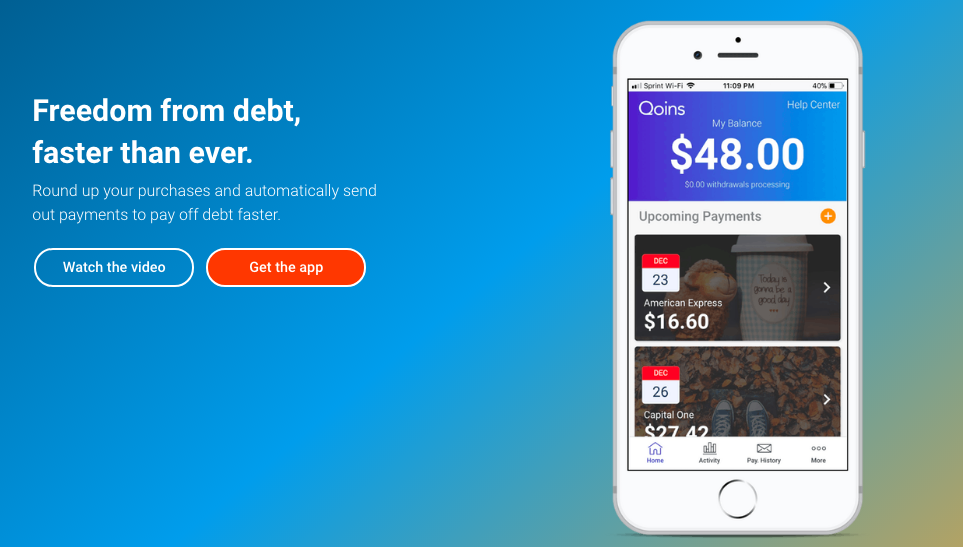 The app transfers your round-ups to your Qoins account once they reach $5, and sends out payments to your student loans once a month—or on a more frequent schedule, if you tell it to. If you want to cancel a Qoins withdrawal, you can—as long as you cancel it in the app by 4:45 EST on the same day it was initiated.
One thing that makes Qoins different from ChangEd is that you don't have to wait until you've reached a $100 threshold to see payments going to your student loan.
Qoins charges a $1.99 per month fee for transactions, but if you don't have any transactions one month, you don't get charged.
Benefits:
No monthly fee if you don't make a transfer that month.

Payments get made to your student loan once a month.

Make extra payments on your debts without having to think about it.
Cost: $1.99 per month, deducted from your Qoins savings.


5. Unbury.me
Unbury.me is a clean, simple student loan payment calculator. When it started in 2011, it was one of the few of its kind. Now it's not alone out there, but it's still a very useful tool.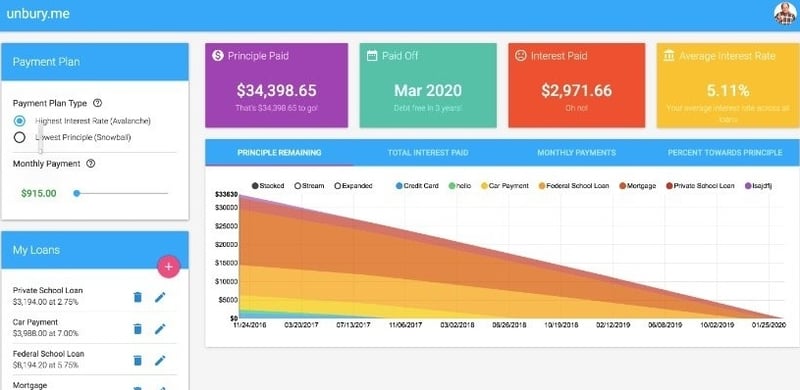 With Unbury.me, you don't link up your accounts or make payments directly through the app. No money changes hands. What you do is enter the amount of all your loans, the interest you pay, and your monthly payments.
The calculator will show you how long it will take to pay off your loans based on your current payment schedule, in an easy-to-digest graph. It will also show how much interest you're paying.
From there, you can play around. See how raising your payment amounts could change your debt picture—and experiment with the Avalanche or Snowball method to see which would get your debts paid off faster.
Unbury.me doesn't hook up to your accounts and make payments for you. What it does do is give you a very clear, at-a-glance picture of your debt and how different payment strategies could work for you. Then you pick a strategy and put it into action on your own.
What are the Snowball and Avalanche methods? We're glad you asked.
The Avalanche method has you aggressively paying back your most expensive loan first—the one with the highest interest—while making minimum payments on the rest of your loans. Once you've paid that off, you target the one with the next-highest interest rate, and so on.
The Snowball method has you targeting your smallest loan first, while making minimum payments toward your other loans. Once that's paid off, you tackle the next-smallest, and onward. This is a great method for people who need the motivation of a few quick early successes.
Benefits:
No need to go through a lengthy account-creation process and link your accounts.

See how different debt payment strategies affect your debt picture, at a glance.

Free and very simple to use.

Play around with different strategies to pick the best one for you.
Cost: Free
See also: Which Student Loan to Pay Off First?


6. Debt Payoff Assistant
Debt Payoff Assistant lets you pick from several different debt payoff strategies to kill off your student debt—including Snowball and Avalanche. It lets you track an unlimited number of loans—ideal for people who have multiple private and federal student loans.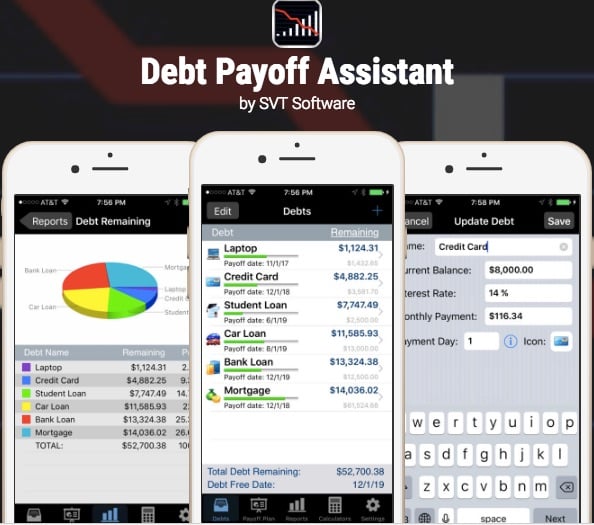 If you like seeing visual progress, this is a great app for you. Debt Payoff Assistant gives you charts and graphs showing your total amount of debt, the amount you still have to pay, your total interest, and how much you've saved. The reporting is more involved than Unbury.me, but not so complicated you can't get it at a glance.
It also gives you a progress bar showing the percent of your loans you've paid—an instant motivator.
In addition, this app gives you payment-due notifications, as well a calculator to estimate your debt-free date under various payment scenarios. This is great if you aren't sure which payoff strategy to use.
The drawback is that it doesn't link up with your accounts. You have to enter your info manually—including your regular payments, interest rates, and balances.
Benefits:
Easily track your progress, maintain your streak, and stay motivated.

Payment-due reminders and notifications.

Try out Snowball, Avalanche, or other strategies to see what works best.
Cost: Free


7. Undebt.it
Undebt.it is a relatively simple, bells-and-whistles-free app that does one thing: helps you pay down your debt, fast.

It focuses on the Snowball method (although you can also switch to Avalanche or design your own plan).
First, you sign up for an account and tell the app about yourself. You enter a budget, which includes both the minimum payments for all your loans and the extra amount you can afford to kick in. The app lets you sign in with your Facebook, Twitter, or Google account.
Then you add in your debt info—including balances and interest. The app doesn't connect to your loan servicer or bank account, so you have to enter this info manually.
Undebt.it has a dashboard that tells you when each loan will be paid off under your current payments, and how much interest you'll have paid. There's also a Debt Snowball Table that lets you track the distribution of payments across all loans at a glance.
Benefits:
Focus on the Snowball method—stay motivated with quick, early wins—or switch to Avalanche.

Easy sign-in with Facebook, Google, or Twitter.

Snowball Table lets you see at a glance where your extra payments are going.
Cost: Free


8. Mint
Mint isn't just for managing debt. What it's great for is giving you a birds-eye view of all your finances—so you can figure out how to free up more money to kick toward your loans.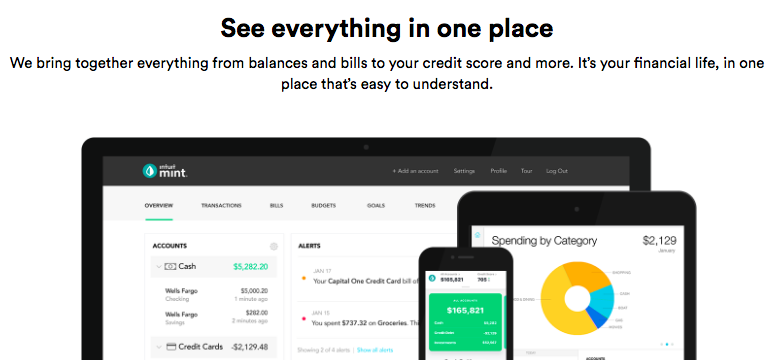 Mint pulls in data from your bank account as well as all your student loans and other debt. If you have lots of accounts in different places, it's great for giving you a single, at-a-glance dashboard for all your accounts.
It's also great because it's one of the few free apps of its kind that will pull info from your bank accounts, so you don't have to enter the info manually.
The app updates your financial info every time you open it. You get graphs, charts, and other visuals to show how you allocate your spending. You can also set budgeting and savings goals.
The goals section is particularly well-suited to paying off student loans. You can enter your debts into this section, specify when you'd like them paid off, and set up custom notifications.
Benefits
:
A comprehensive, birds-eye view of all your finances.

A "goals" section with a tailored option for student loans—helps you stay motivated and focused.

Identify larger spending issues and get them under control.
Cost: Free, with in-app advertising


9. EveryDollar
EveryDollar is the app created by financial guru Dave Ramsey. It's more budget- than debt-focused, but it's tough to pay down debt if your budgeting skills aren't solid. If your problem with debt is linked to a larger problem with spending and budgeting, this may be ideal for you.
First, enter your monthly income. Then enter your regular expenses—the app gives you a customizable template that makes this easy. After that, you track your spending by entering the transaction into the app.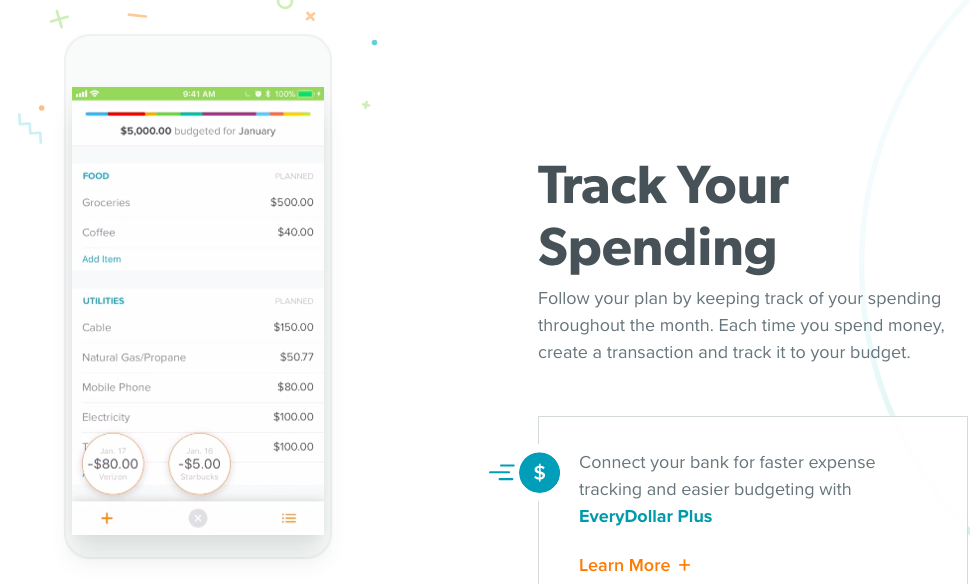 The free version of the app requires you to enter most transactions manually. You get a 15-day free trial of EveryDollar Plus—the premium version—when you sign up; under this version, the app links to your bank account and pulls your transaction history from there.
This app is easier to use than Mint.com, and more flexible in terms of customizing your budget categories. However, EveryDollar's reporting isn't as detailed.
It does have a support department populated by real people, though. Which is a breath of fresh air.
Benefits:
Gives you a birds-eye view of your finances.

Simpler, less-involved reporting than Mint; a bit easier to use.

Helps you set a budget and free up money for your student loans.

A help desk populated by real humans.

Premium option connects directly to your bank account.
Cost: Basic version is free; Premium is $99 per year


10. Pickpocket.me
Pickpocket.me takes 10% of every dollar you spend—ten cents—for the first $500 you spend on any purchase. It then puts that money toward your student loans.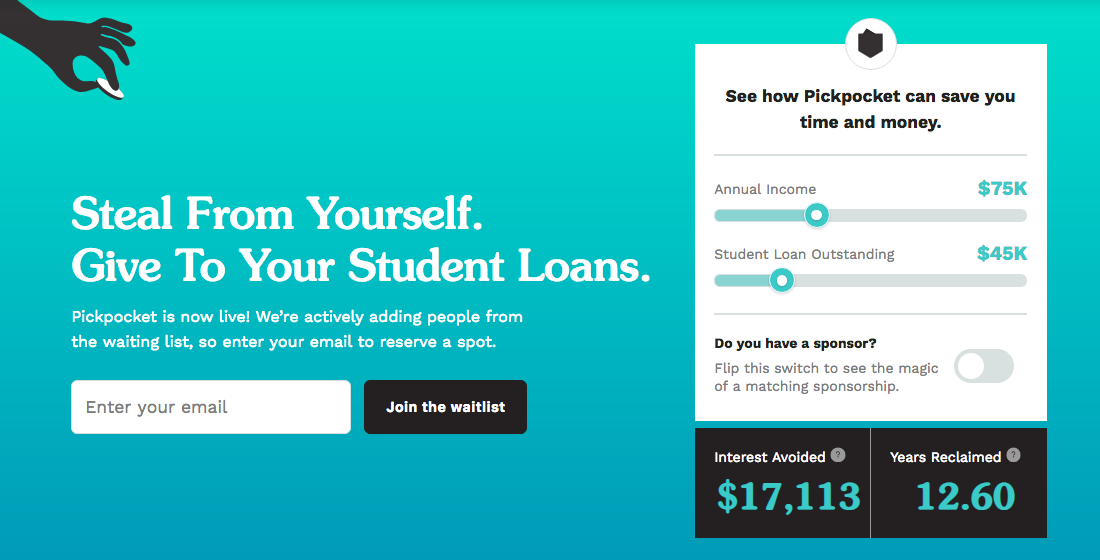 That's the automatic rate. You can reduce it down to 5 cents per dollar, or crank it up to take a higher percentage.
You pick the percentage you want the app to take for every dollar, and then you link your debit cards, credit cards, and student loan account to the app. There's no need to set up a separate bank account.
For larger expenditures, you can wind up putting a lot toward your student loan—which, for many people, is a good thing. But if the app transfers too much money, you can undo the transaction—which is also a useful feature.
Another cool feature is this: you can rope in sponsors to match your payments. Get your grandparents, parents, or another loved one to match your payments every time you make one—they get to choose their limit, of course.
Benefits
:
A round-up app that puts more toward your loan (depending on how much you specify).

Change the percentage the app takes with every transaction.

Automated payments make savings easy.

Get sponsors to match your student loan payments.
Cost: $4.99 per month


Make even faster progress through refinancing
Refinancing is another effective strategy for whittling away at your student loan debt. Reducing your interest rate by even 1% can yield thousands of dollars in savings. Check out our Student Loan Refinancing Calculator to find out how much you could save.