MOHELA Student Loans: The Ultimate Guide
What is MOHELA?
The Missouri Higher Education Loan Authority is one of the nation's leading federal student loan servicers. In 2018 and 2019, MOHELA managed approximately 20% of existing federal student loans—the most of any servicer. So if you're currently repaying federal student loans, there's a good chance they service yours.
If that's the case, then you're in the right place.
This extensive guide to MOHELA will walk you through every aspect of working with the company so that you can stay confident throughout your repayment process. From creating an account to making your monthly payments, we've got you covered on everything related to managing your debt with MOHELA.
What does a federal loan servicer do?
Before we discuss the details of working with MOHELA, let's describe what they—and other loan servicer companies—do.
Federal student loan servicers contract with the federal government to handle repayment, borrower communication, and other services related to your government student loans. Currently, nine companies service federal student loans, and MOHELA is one of the largest.
Here's a brief list of some services your federal loan servicer will perform:
Receive and track your payments
Work with you to adjust your repayment plan
Implement deferment and forgiveness options when applicable
Inform you of your payment progress and other details related to loans
To determine if MOHELA is your servicer or if another company is managing your educational debt, log into the My Federal Student Aid website. There, you can see which company is currently servicing each of your federal student loans—and there could be more than one.
Once you confirm MOHELA is your servicer, head over to their website and move on to our next section.
Managing your account with MOHELA
Creating your account
If you're just beginning the repayment process, creating an account on MOHELA's website is your first step to accessing information about your loan and selecting your preferred payment options.
Thankfully, the process is relatively simple because MOHELA has already received all the information they need about your loans from the Department of Education.
Step 2:
Click the "CREATE WEB ACCOUNT" button on the home page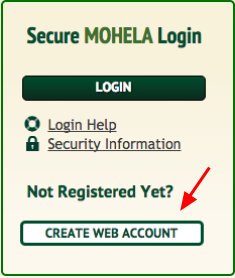 Step 3:
Enter your Social Security number and birthdate
Step 4:
Create a secure username and password
Step 5:
Press continue to set your preferences related to security and communication
Editing your account info
Keeping your contact information current is essential. You don't want to miss an important update about your loan or have your private financial information mailed to an old address for anyone to open.
If you move, change your name, or get a new phone number or email, update those details in MOHELA's records. Here's how:
Step 2:
Once logged in, select the "Profile & Notifications" link beneath the "My Account" section of the column on the left
Step 3:
Select the account-related detail you'd like to adjust; confirm and save your changes before leaving the page
If you prefer to skip the snail mail and receive all your communication digitally, you're in luck. MOHELA offers a "paperless" option for all borrower correspondence. To sign up for this program or learn more about it, head here.
Reaching MOHELA customer service
If you have any questions related to your loans or need to make a change to your repayment plan, MOHELA customer service representatives can be reached by phone at the following numbers:
(888) 866-4352 for help in the U.S.
(636) 532-0600 for international assistance
Representatives are available at the following times:
7 a.m. to 9 p.m. Monday through Thursday
7 a.m. to 5 p.m. Friday
You can also access automated payment and account information by phone 24/7.
Making payments with MOHELA
MOHELA allows its account holders to submit payments in a variety of ways. Explore the options below and choose whichever payment method sounds simplest for you.
Set up auto debit
Setting up auto debit allows you to have payments automatically withdrawn from your bank account on a specified date each month. Plus, you may even qualify for a .25% deduction on your interest rate, which could translate to significant savings over time.
To set up auto debit, follow these steps:
Log into your MOHELA account.
If you're not currently enrolled in auto debit, a prompt for this option will be visible near the top of the page.
Click "Apply Now" and follow the instructions to establish auto debit. You'll need to enter your bank account information to confirm this payment method, so have those details handy.
Make a one-time online payment
Making a single payment through the MOHELA website is simple.
Log in to your account.
Select the "Make a Payment" option beneath the "Payment Assistance" section within the left column.
On the following page, select the date you'd like to send your payment. If you're making a payment for the first time, you'll need to provide your bank account information. The info will be saved for future payments.
Enter the amount you want to pay. You can choose to apply your payment across your loans or toward one loan specifically.
Click "Continue" to confirm the details of your payment.
Make a payment by phone
To provide the details of your payment by phone, call (888) 866-4352. Have your account details ready when you call. If you need international assistance, call (636) 532-0600 instead.
MOHELA's operators aren't available 24/7, but you can make payments through their automated system at any time.
Send your payment by mail
You can send a check to MOHELA, but you will need to log into your account to determine the correct address. They have multiple addresses, and different types of loan payments go to different ones.
You'll also need to include your 10-digit account number (visible in the top menu once you log into the website) on the check you send.
MOHELA states that this payment method will take the longest time to process, so don't cut it close to the due date.
Repayment plan options with MOHELA
If you're looking to extend your repayment period to lower your monthly payments, MOHELA facilitates a number of plans that adjust the length of time you'll be paying your loan back.
Standard Repayment
This is the default repayment length under the terms you agreed to when you signed up for your loan.
Graduated Repayment
With this option, your monthly payments will start out low and gradually rise over time. This might help you if your salary is modest now but you anticipate making more money in the months and years to come.
Extended Repayment
With this plan, you'll make lower monthly payments over a longer period of time. The total interest you pay will likely be significantly higher with this option.
Additionally, MOHELA administers a number of income-driven repayment plans that adjust your payments based on your discretionary income.
To learn more about these options, visit the MOHELA Repayment Plans page for specific details. If you think any of these plans might be right for you, you'll need to request a change to your payment plan by phone. You cannot apply for an income-driven repayment plan online.
MOHELA operators can be reached at (888) 866-4352 during business hours.
If you want to switch to an income-driven repayment plan, you will also have to apply online through the Department of Education's StudentLoans.gov website. MOHELA representatives can guide you through that process.
Student loan forgiveness with MOHELA
You might also be interested in student loan forgiveness and discharge programs, which relieve account holders from all or a part of their debt burdens.
Forgiveness is a possibility for a limited pool of borrowers, such as those serving in specific public service professions. Discharge is permitted only in rare circumstances, such as fraud or closure on the part of your school. To see if you qualify for either type of program, visit MOHELA's Loan Forgiveness and Discharge Programs page.
Deferment and Forbearance with MOHELA
As a last resort during difficult times, you can also request a deferment or forbearance on your payments through MOHELA.
A deferment postpones payments during a time of financial difficulty, and no interest accrues during this repayment pause. You may be eligible to receive a deferment for the following:
Unemployment (for up to three years)
Economic hardship (for up to three years)
College or career school (enrolled at least half time)
Military service (and during the 13 months following active duty military service)
Cancer treatment (during and for six months afterwards)
Conversely, forbearance also pauses payments for a specific period, but interest does accrue during this time and remains the responsibility of the borrower. Forbearance can be granted for several reasons, including:
Medical or dental internship or residency
Student loan debt burden
National service participation (must be receiving a national service award)
Teacher loan forgiveness participation
Department of Defense loan repayment program participation
National Guard active service
Natural disaster (up to three months)
As with repayment plan changes, MOHELA will only process deferment or forbearance requests by phone.
MOHELA Contact Information
Office Hours:
M-Th: 7:00 AM - 9:00 PM (CT)
F: 7:00 AM - 5:00 PM (CT)
Contact Us: https://www.mohela.com/DL/common/ContactUs.aspx#
Phone: 1-888-866-4352
Mailing Address:
MOHELA
633 Spirit Drive
Chesterfield, MO 63005-1243
Website: https://www.mohela.com/
Click here for more information on the other main student loan servicers.